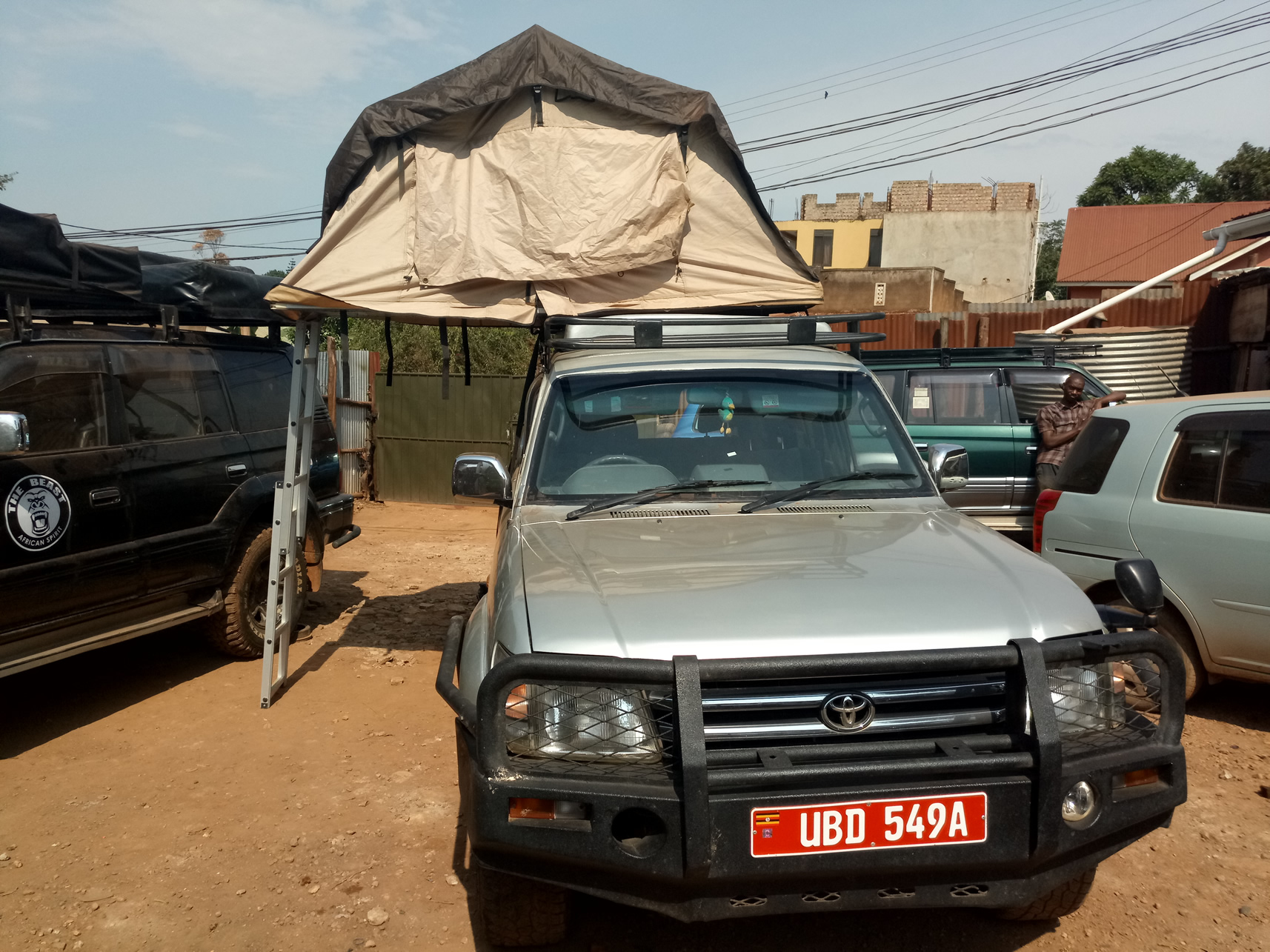 Go self drive Uganda with 4×4 Safari Land Cruiser Prado that is redesigned with beautiful and sturdy rooftop tents to offer the ultimate safari experience to clients! These sturdy rooftop tents are made in South Africa and made of the highest standard rip stop canvas. It fits 2 adults. More so if we get more than one couple but traveling on the same safari loop in Uganda we always offer a 4×4 safari land Cruiser with 2 rooftop tents or we can also as well offer a family rooftop tent and the price varies.
With a max of 4-5persons and still maintain a huge space for luggage, this land cruiser Prado is equal to none when considering the 4 Wheel/4W. You can opt to rent this vehicle for self-drive safaris or with the insightful drivers. Save big on safari Accommodations by hiring one of the safari land cruiser with roof top tents. It has the capability of juggling through the bumpy upcountry roads and slippery roads to save you a big adventure. It has been proven to be one of the most powerful vehicles with a high ground clearance level.
They always have Air Conditions, Sun Roof, ABS & Radio system for listening to cool Music from the flash or iPhone, Air Bags, 4×4, Automatic. Fuel consumption is either diesel or Petrol.
Land Cruiser Prado 4X4 with Rooftop Tent helps you discover Uganda and if you want to go to Kenya at a reliable & cheap price we can too offer you this service. 4WD camper vehicles are equipped with full camping equipment's. You take specialty in hiring out good quality 4X4 camping trucks. Campers or roof tents are designed for those who like camping of nature.
The vehicles are all in good condition and ready for safari with rooftop tent and camping equipment's, customers are valued and make sure vehicles are serviced frequently to maximize your experience during your safari. You just set up the rooftop tent on the Prado you have hired and spend the night in relative comfort.